Auto Accident Law in Owings Mills, MD
Why You Should Hire a Competent Auto Accident Lawyer
Any time you get inside a vehicle, whether as the driver or as a passenger, you put yourself at risk for being injured in a car accident. The National Highway Traffic Safety Administration (NHTSA) estimates that over three million Americans are injured every year in automobile accidents. Recovery after a car accident can be cumbersome, resulting in expensive medical bills, lost wages, and debilitating injuries that make it difficult to move on with your life. If you've been injured in a car accident, you're entitled to a competent attorney to help you seek the compensation for your injuries that you deserve. Kent L. Greenberg is an adept auto accident lawyer in Owings Mills, MD, who can assist you with filing a personal injury claim. Experienced with Maryland auto accident law, our firm can negotiate with the insurance companies on your behalf to ensure that you receive a reasonable settlement.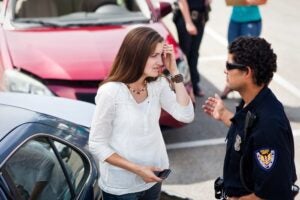 Steps to Take if You've Been Injured in an Auto Accident
Any time you're involved in a car accident, it's in your best interest to seek medical treatment immediately. No matter how minor your "fender bender" may seem to you, car accident injuries are not always apparent. You could have internal bleeding or a slight concussion. Some injuries take longer than others to show up and be diagnosed and treated, and not all car accident injuries are physical in nature. Many individuals experience post-traumatic stress disorder after an accident, resulting in anxiety and painful flashbacks to the crash itself. In addition to seeking medical treatment, it's also necessary for you to file an accident report with your local law enforcement, as well as a car accident insurance claim with your insurance company as soon as possible.
Why Making a Claim Against the Responsible Party's Important
If the other driver is found to be at fault for the car accident, their insurance company is usually responsible for paying for your expenses involving medical bills, car repairs, and lost wages. However, the state of Maryland is one of only four U.S. states that follows the strict rule of "contributory negligence," meaning that if you've contributed in any way to the car accident, you can't file a claim against the other driver. It doesn't matter if you were only 1% at fault – you won't be eligible to submit any liability claims. Avoid costly errors in judgment by relying on our many years of experience working with Maryland auto accident laws, including contributory negligence.
Generally speaking, the sooner you contact an auto accident lawyer to help you file your personal injury or liability claim, the better. The insurance claims process can be a bit tricky for most individuals with mounds of paperwork involved and deadlines that must be followed carefully. Your claim could be denied for various reasons. Having an auto accident lawyer in your corner may increase the likelihood that your claim will be approved. Not to mention, we've dealt with enough insurance companies to recognize when they're trying to lowball you with a quick offer. If a reasonable claim settlement can't be reached through negotiations, we'll also fight aggressively for you in court.
The Most Common Types of Car Accident Injuries That We See
Car accident injuries vary greatly, from minor cuts and bruises to more permanent disabilities. Factors affecting the severity of a car accident injury may include the direction from which you were hit, if it was a low-speed or high-speed impact, whether or not the airbags deployed, or if you were wearing a seatbelt at the time. Here are some of the most common types of car accident injuries that we see among our Baltimore County clients:
Whiplash (an injury affecting the neck and upper back area)
Head/brain injuries (concussions, ongoing migraines)
Herniated discs (one or more of your spine's vertebrae shift out of place)
Chest injuries (broken ribs, internal injuries, and bleeding, severe bruising)
Soft-tissue injuries (impacting your muscles, ligaments, or tendons)
Lacerations from seatbelts, airbags, or flying debris
Arm, leg, hip, and knee injuries (sprains, fractures, severe bruising)
Post-traumatic stress disorder (ongoing mental and emotional injuries)
Consult Our Auto Accident Lawyer in Owings Mills, MD Today
If you've been injured in a car accident and need an experienced auto accident lawyer in the Owings Mills, MD area, contact the Law Office of Kent L. Greenberg today. Our legal team would be happy to assess your case and help you take the necessary steps to seek compensation for your injuries. If a loved one was killed in a car accident in which reckless driving or speeding may have been a factor, you might also be entitled to compensation. Call (410) 363-1020 to discuss the details of your case today!
Why Choose Kent L. Greenberg?
Seasoned Litigator with over 30 Years of Experience
Providing Thorough & Honest Analysis on Every Case