Consult Our Slip and Fall Lawyer in Owings Mills
File Slip and Fall Lawsuits in Maryland
Whether it's a property owner who failed to maintain their premises or a manufacturer who produced a faulty product, slip and fall victims have the right to pursue damages for their injuries. Don't let a slip and fall accident keep you or your loved one down; let the Law Office of Kent L Greenberg help you get back on your feet and move forward with your life.
Understanding the Severity of Slip and Fall Accidents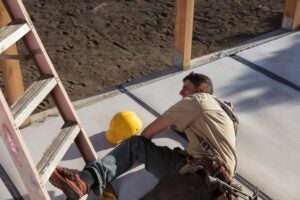 Slip and fall accidents may seem like a minor inconvenience, but the reality is that they can have devastating consequences. The sudden and unexpected nature of these incidents can lead to serious injuries, including life-threatening outcomes. Unfortunately, it often takes experiencing it firsthand or seeing a loved one go through it to truly understand the gravity of the situation.
Types of Slip, Trip, or Fall Injuries
You may be astonished by the potential severity caused by slip and fall accidents. These types of injuries may include:
Bone fractures
Traumatic brain injuries
Ligament tears or sprains
Concussions
Spinal cord injuries
Internal bleeding
Nerve damage
Common Places Slip and Fall Accidents Occur
Slip and fall injuries can occur anywhere, but common locations include grocery stores, shopping centers, parking lots, sidewalks, stairways, and the workplace. These incidents may even take place in residential buildings. The hazards that lead to these types of accidents and injuries are often caused by poor maintenance, inadequate cleaning, or lack of safety precautions.
Causes of Slips, Trips, and Falls
A variety of factors can cause slip and fall injuries, but common causes include:
Wet or slippery surfaces: Spills, leaks, and poor weather conditions can make floors slippery and dangerous to walk on.
Uneven surfaces: Potholes, cracks, and raised or sunken areas can cause tripping hazards.
Poor lighting: Insufficient or poorly placed lighting can make it difficult to see potential hazards.
Obstacles: Clutter, debris, or other obstacles in walkways can cause tripping hazards.
Improper maintenance: Lack of cleaning, repairs, or regular maintenance can lead to dangerous conditions.
Defects: Manufacturing defects, design defects, or problems with installation can create hazards.
Relying on the Representation of a Slip and Fall Lawyer
A personal injury lawyer has the knowledge and experience to effectively navigate the legal system and build a strong case on your behalf. They can help you understand your rights and the potential value of your claim and guide you through the process of filing a lawsuit and negotiating a settlement.
Choosing a reputable and experienced slip and fall accident lawyer with a track record of success, such as our attorneys at the Law Office of Kent L Greenberg, can increase your chances of a successful outcome and ensure that your legal rights are protected and your best interests are represented.
Settlements and Compensation for Slip and Fall Lawsuits
When it comes to slip and fall injuries, settlement and compensation are important considerations. The process of negotiating a settlement and the amount of compensation awarded can vary widely, depending on the specific circumstances of the case and the severity of the injuries. Your slip and fall accident attorney will be able to provide you with a more accurate estimate once they understand the details involved in your specific case.
Contact Our Slip and Fall Accident Attorney
The Law Office of Kent L Greenberg can provide you with the personal injury law assistance you need to pursue a claim for your slip and fall injury. We have the expertise and experience to guide you through the legal process, ensure your rights are protected, and help you to achieve the best possible outcome. Contact our personal injury attorneys for a consultation today.
Why Choose Kent L. Greenberg?
Seasoned Litigator with over 30 Years of Experience
Providing Thorough & Honest Analysis on Every Case