Workplace Injury Law in Owings Mills, MD
When and Why You Should Hire a Workplace Injury Lawyer
Have you or a loved one been injured in the workplace? The Law Office of Kent L. Greenberg has over three decades of experience representing clients needing a workplace injury lawyer in Owings Mills, MD. You may be wondering when and why you should hire a workplace injury lawyer. The severity of your injury, the actions taken by your employer, and how it's affected you overall will dictate whether you can handle the situation yourself or whether you need an experienced legal team by your side.
Have you missed a significant amount of work resulting in lost wages while recovering from your injury? Has your employer or insurance company denied your workers' compensation claim? Has your employer taken any discriminatory actions against you for filing a claim? Have you suffered a permanent disability limiting your ability to perform your job in the future? If you answered "yes" to any of these questions, it might be time for you to hire our workplace injury lawyer at the Law Office of Kent L. Greenberg. We'll do everything we can to help you achieve a fair settlement for your workplace injury.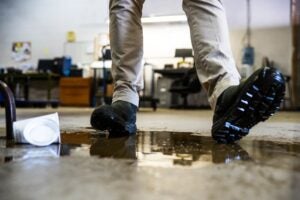 The Most Common Types of Workplace Accidents and Injuries
Thousands of people are injured in workplace accidents every year. Ranging from minor bruises to more life-threatening injuries, here are some of the most common types of workplace accidents and injuries our workplace injury lawyer in Owings Mills, MD has seen over the years:
Slip-and-Falls – Whether you're employed in an office or a factory warehouse, slip-and-falls can occur anywhere there's a potential for a slippery surface. Falling from a ladder or scaffolding also presents a serious safety hazard for many industrial and construction workers.
Repetitive Strains – Whether you use a computer keyboard daily, or you're required to lift heavy objects as part of your job, repetitive strains are commonplace in nearly every profession.
Falling Objects – Just because you don't work in a hardhat construction zone doesn't mean you're not at risk for being struck by a falling object. Heavy objects can fall off shelving or tumble out of overstuffed cabinets or cupboards in any workplace.
Cuts & Lacerations – If you operate a power saw or other types of cutting tools as part of your job, not having the right kind of safety gear can result in cuts and lacerations on various parts of your body. Sometimes poor lighting, improper safety training, or inadequate machine guarding are also to blame for these types of workplace accidents.
Exposure to Toxic Fumes – Some job sites require working with hazardous chemicals that pose a threat if you're not adequately protected from exposure. Exposure to toxic fumes may lead to many life-threatening medical conditions.
Industrial Deafness – If you work somewhere with a lot of exposure to heavy machinery and equipment noise, you may be at risk for a condition known as industrial deafness in which your hearing is permanently affected.
Auto Accidents – If you operate a car or piece of heavy machinery as part of your job, you're at risk for auto accidents and other types of collisions in the workplace.
Knowing Your Rights if You Get Injured in the Workplace
In the state of Maryland, your workplace injury must have been caused by an "accidental personal injury arising out of and in the course of employment" to be considered eligible for workers' compensation. However, just because you were injured on the job doesn't necessarily mean you're entitled to workers' compensation. Several factors will be considered, including the time, place, and circumstances surrounding your workplace injury, as well as what safety precautions were taken to prevent the accident from occurring. Hiring an experienced workplace injury lawyer is in your best interest to help you wade through this extensive branch of personal injury law. We want to help you seek compensation for related medical costs and lost wages from workplace injuries that you deserve!
The Law Office of Kent L. Greenberg Is Here for You
If you're seeking a workplace injury lawyer in Owings Mills, MD, the Law Office of Kent L. Greenberg is here for you. In addition to ensuring you file all the necessary paperwork and meet all of the deadlines, we'll also negotiate on your behalf with your employer and the insurance company. If a fair settlement can't be reached outside of court, our competent team is also capable of representing you in all future legal proceedings. Don't let the insurance company bully you into not getting the maximum compensation you're entitled to as the result of a workplace accident. Please give us a call to arrange a consultation with Kent L. Greenberg to begin discussing and building your workplace injury case today!
Why Choose Kent L. Greenberg?
Seasoned Litigator with over 30 Years of Experience
Providing Thorough & Honest Analysis on Every Case