Although service to one's country is invaluable, military families face incredible challenges. The strain of a lengthy deployment can often contribute to the breakdown of a relationship and a subsequent divorce proceeding. However, even in the absence of divorce, military families may need to consult a child custody lawyer serving Owings Mills. This is because the military mandates the creation of Family Care Plans for certain servicemembers.
Family Care Plans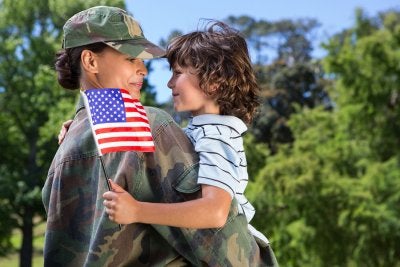 A Family Care Plan is a document that establishes child custody arrangements; however, it is used by parents who are not divorcing. The military requires servicemember parents to have an official Family Care Plan under certain circumstances, such as when both parents are active duty servicemembers with children under the age of 19. This document details how care will be provided to the children in the event that one or both parents are deployed on a short-term or long-term basis. For example, during a short-term absence such as a week-long training program, the child might stay with a nearby aunt or uncle. For a long-term deployment, it may be more appropriate for the child to stay with a different relative, even if this relative lives farther away. Military Family Care Plans also designate a guardian for the child in the event of the death of the military parent. A family law attorney can help parents develop a Family Care Plan.
Military Relocations
When military parents separate or divorce, relocations can be particularly tricky. Child custody is governed by state law, even for military families. This means that it is likely that the custodial parent will have to ask the court for permission to move with the child when that parent is transferred to a different post.
Child Custody Modifications
The Servicemembers Civil Relief Act (SCRA) gives military parents certain legal rights. When an active duty servicemember is deployed and the other parent files for divorce or a change in child custody, the active duty servicemember can obtain a stay of court and administrative proceedings. This stay postpones court proceedings for 90 days to allow the servicemember to be present. Sometimes, the judge may decide to extend the stay.