Meeting with a divorce lawyer for the first time can be emotional and overwhelming. Fortunately, you will almost certainly walk away from the meeting feeling better than when you walked in, with many questions about the future finally answered and with a plan for moving forward. As you go into your first meeting with your divorce lawyer in Owings Mills , here is a look at what to expect, so you can be prepared and ready to focus on the issues at hand.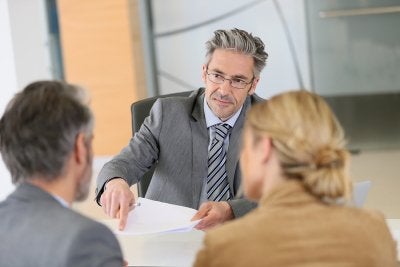 General Case Review
Before your divorce lawyer can give you the right advice, he or she must understand as much as possible about your situation. First, he or she will need to know if your spouse has already filed for divorce or if you plan to file yourself. Next, you'll need to review the circumstances that have led to your divorce. The reasons you want a divorce can have an impact on the approach your attorney takes to your case. For instance, if your divorce was precipitated by your spouse's affair, that circumstance can influence the type of divorce you decide to pursue and decisions about alimony and child custody. Although your divorce attorney is not a counselor, he or she is accustomed to dealing with people in distress, so don't be concerned if you become emotional, and don't feel embarrassed to be honest about your marriage and your reasons for divorce.
Document Review
It's important to prepare a number of documents for your first meeting with your lawyer, if possible. The most crucial information to have is financial information. Bring bank statements, the past two years of tax filings, statements on your IRAs, mortgages, credit cards, and other debts. It can also help to make a list of your living expenses and bring pay stubs from both you and your spouse. Child support and spousal support will be determined in large part by these factors. If you have documentation of any of the issues within your marriage, such as receipts that are linked to an affair, you can also provide these to your divorce lawyer during this meeting.