Divorce can be just as financially problematic as it is emotionally exhausting. You may wish to visit a family attorney near Pikesville before informing your spouse that you intend on filing for divorce. Your family lawyer can offer invaluable advice on protecting your bottom line during and after your divorce.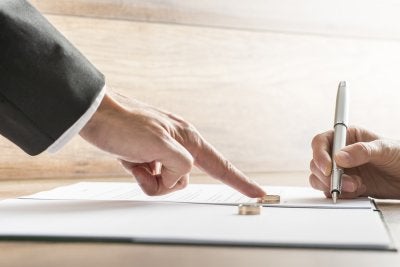 Ignoring the Importance of Savings
When a spouse realizes that a legal separation or divorce is the only viable solution to the breakdown of a marriage, he or she may be eager to go through with the proceedings as quickly as possible. However, it's essential to ensure that day-to-day living expenses will be met before the court issues rulings on financial matters. Once you've begun a legal separation or filed for divorce, you'll need to pay legal fees and court filing fees. You may also need to make new housing arrangements and meet your other daily expenses on your income alone. Your divorce lawyer may advise you to open a savings account under only your name to allow you to support yourself while the case is pending.
Underestimating Your Expenses
You will need to submit to the court documents pertaining to your finances, including a list of your monthly expenses. Evaluating your income and expenses with the finances of your spouse aids the court in making decisions such as spousal support and child support. One common mistake divorcing spouses often make is to underestimate their monthly expenses. Keep track of exactly where your money goes during the month. Take into consideration your future needs and your child's needs, including major expenses such as healthcare and minor costs such as school supplies.
Failing to Secure Support Payments
If you expect to receive spousal support and/or child support, you might consider asking the court to require your spouse to obtain disability and life insurance policies. This ensures that you'll continue to receive payments in the event your ex-spouse becomes disabled or dies.
Neglecting to Consider Shared Liability for Debt
Talk to your divorce lawyer about your marital debts. He or she will help you determine which debts you may be held liable for after the divorce. Even if your spouse is responsible for paying off a credit card, the creditor may begin collection proceedings against you if your spouse fails to make payments.