Adultery is a breach of trust, and many couples cannot recover from it. But before you tell your spouse that you want a divorce , schedule a consult with a family lawyer serving Owings Mills. He or she can walk you through the process and explain the effects of the infidelity on the divorce case.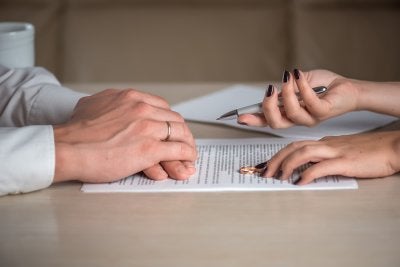 Grounds for Divorce
Maryland divorce law is complex, and for most couples, it's more time-consuming in this state to obtain a no-fault divorce. Many spouses must be legally separated for 12 consecutive months before getting legally divorced. If either spouse has sexual relations with another person, either before or during the legal separation, this is grounds for an absolute divorce. The court can grant an absolute divorce based on adultery much more quickly than the average no-fault divorce.
Effects on Alimony
Bring your relevant financial documents to your meeting with your attorney. He or she can review these to give you personalized guidance on the alimony the judge might order. Many spouses are surprised to learn that adultery doesn't always affect spousal support. Even if your spouse was the one who was unfaithful, he or she could still receive alimony from you. The judge is more likely to consider the role of adultery while establishing the support order if the act of infidelity affected the marital assets. For instance, the adulterous spouse might have spent a substantial portion of the marital assets on expensive gifts for the other person.
Proof of Adultery
The judge will only grant an absolute divorce based on adultery if you can prove that your spouse was unfaithful. It is not necessary to prove that sexual intercourse took place. Also, depending on the electronic surveillance used, this might even be illegal. All that's necessary is to prove that your spouse had an adulterous disposition and an opportunity. An adulterous disposition refers to displays of affection, such as hand-holding, hugging, or kissing. An adulterous opportunity could include any indication that the spouse could have committed adultery, such as evidence that the spouse stayed overnight at the other person's residence.